Profile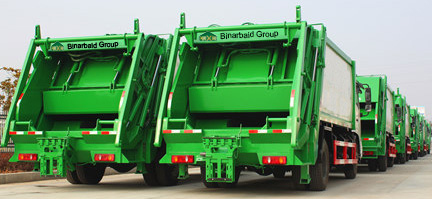 BIN ARBAID GROUP have pleasure to introduce this division which is certified for ISO 9001:2008 in the year 2001 and is maintaining since then. The BIN ARBAID TRANSPORTATION & EQUIPMENT has earned a very good rapport with all the major companies presently operating in the State of Qatar. With a very rapid infrastructure developing up, the company aims at extending quality and professional services. The dedicated team of professionals and workmen are constantly striving to provide the best in all the jobs undertaken. It is the customer satisfaction that has contributed to the growth of the company. We proudly introduce ourselves as a leading service provider and pioneers in WASTE MANAGEMENT SERVICES in Qatar, fully equipped consisting of Sewage/ Vacuum Tankers, Sludge Removal Equipment, Skip Loaders with various types & sizes of Skips/Waste Bins, Compactors, Tractor Road Sweeper (Road Cleaner), Potable & TSE Water Tankers, with dedicated, well experienced manpower. We are continuously providing services to most of all well-known companies in Oil & Gas and Construction Sectors and other accommodation camps in the entire country of Qatar..
The scope of work includes all types of Waste Management Services like :-
Removal & disposal of domestic / industrial wastes.
Removal & disposal of sewage water.
Supply & transportation of fresh water.
Supply & transportation of Treated Sewage Effluent (TSE) water.
Supply of dune sand / washed sand, aggregate, back filling materials etc.
Hiring of construction / heavy equipment / machinery like Poclains, shovels, excavators, dump trucks, tankers, trailers, road cleaning tractors, JCBs, graders, compaction rollers, buses, low beds, 3-ton pick-ups etc.
The Company also owns a Maintenance Workshop for all the above vehicles and equipment. The company is also providing movements and/or transportation of goods inter-state of the Gulf Region